Wearing a killer pair of high heels can alter your appearance a surprising amount, lengthening the legs and making you look slimmer overall. Yet they can also cause a lot of foot damage or worse if you don't look after yourself. Here are over a dozen tips to maintaining the supermodel on the catwalk look without any slips, scars or foot ache!
#1 Opt for High Heels with a Slope or Pitch
If you measure the distance between the heel and the base of the shoe, it should have a sloped shape rather than a sudden drop, as this immediate drop is what causes muscle strain and pain.
#2 The Thicker the Heel, The More Stability
If you're going for the Louboutin look, look away from this tip as no matter what, they won't be very comfortable and this style is known for their ultra thin heel. If you are open to other styles however, check out high heels with thicker heels as this makes it easier to balance.
#3 Try Before You Buy
Try on whatever heels you want before buying them. There is nothing less sexy or strong and empowering as cringing with pain in new heels before the day/night has even begun. Try them on and if you're buying online, make sure you can return them if needs be.
#4 Backup Your Foot
Make sure the heel of your foot is gripped on either side by the shoe so it won't slip into the toe section and cause a lot of pressure in this area, resulting in some toe pinching pain!
#5 Try On With Swollen Feet
Try the culprit pair on when you have already been walking for a fair bit so that your feet are at their most swollen (in their normal routine). This way they won't give you some surprise pain after wearing them for hours after the purchase. The time agreed by most people best to try them on is around midday, presuming you've been up and out since morning!
#6 Stretch Them Out With Ice
This is an old favourite! Breaking in a pair of shoes is one of the worst misfortunes cast against mankind, indisputably. This crafty trick ends that turmoil with little effort. All you have to do is fill two bags with water, stick them in the shoes and place them in the fridge overnight. The bags will free and expand, therefore expanding the shoes ever so slightly.
#7 Or Stretch Them Out With Hot Socks
If you're in more of a hurry and need a quick fix to stretch your heels out slightly, put on a pair of thick socks followed by the shoes. Blow dry the heels wherever they rub against your feet badly. This should do the trick!
#8 Lip Balm to Prevent Blisters
Blisters are usually the result of wearing new high heels for approximately more than two seconds, meaning they are the bane of our lives. If you stop the skin rubbing against the tough parts of the shoe, the wearability of those killer heels will double! Rub some Vaseline or lip balm against the back of the heels and anywhere it hurts to create some slip!
#9 Use Dry Shampoo to Prevent Foot Sweat
As strange as it sounds, either dry shampoo or antiperspirant will also help prevent blisters and sore, stinging feet. How? It will stop your feet getting sweaty, which is usually worsened by the hard leather of most heels.
#10 Foot Baths to the Rescue
Giving yourself some TLC  before a night out in heels will relax all your foot muscles enough to stop them feeling too tense and achy when you slip on the heels. Give your feet a 20-minute warm water soak before heading out. Having them soft and relaxed will leave them more capable to adapt to the shoe.
#11 Sandpaper the Bottoms
A fall in high heels is not only seriously mortifying but also potentially very dangerous, as the thin, stiletto heels make it far easier to break our ankles if we fall the wrong way. One wobbly move and you won't be wearing anything but a cast for a while! Sandpaper the bottom of the heels to create some grip so they're that bit more stable.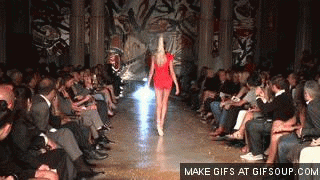 Photo: The Daily Touch/Giphy
#12 Green Tea Shoes
If you want to keep your shoes in perfect nick, keeping them smelling fresh is an important component of that. Pop a dry green tea bag in each sole for a few hours and any smells will be neutralised due to the detoxifying powers of green tea. So it's not just good for the tummies!
#13 Baby Powder on Feet to Prevent Rubbing
Another way to prevent your feet rubbing and creating blisters and aggravated skin is to dust some baby powder over your feet and rub it in before wearing the heels. The powder will soak up any oils or sweat and prevent friction. Baby fresh!
#14 Use Moisturizer as Shoe Polish
If you're in a tight spot with no shoe polish but need those heels looking their best for an event, night out or business meeting, use some of your moisturiser! Especially if you have a cheap one lying around, this will be a money saver as well as a life saver. It gives that pristine reflection, you can thank us later.
#15 Tie the Third and Fourth Toe Together
This sounds like an ancient Chinese foot binding tradition, but tying your third and fourth toes together stops them from splaying out and crowding the shoe, and takes the pressure off the ball of the foot. It keeps them in the right position so your foot doesn't begin scrambling around in there! Use some ordinary sticky tape, only a bit, or self-sticking bandage tape.
#16 Wear Insoles
If you've tried all of these tips and haven't used insoles, where have you been?? Give yourself some guaranteed comfort and invest in regular packs of insoles to keep you dancing and strutting as long as you want. Wear the heels, don't let them wear you!